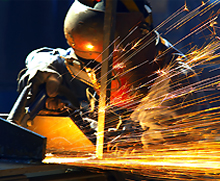 Company Profile
Shye Chi Enterprise Co., Ltd has been a pioneer in the stainless steel finishing industry for over 20 years. Our services include Stainless steel sheet, stainless steel bar and stainless steel plate, Stainless steel finishes,Emergency sling holder , Special screw, Stainless steel fixed accessories, Manhole steps, Accessories of electric cable facilities ,Stainless steel Accessories of finishing tools, Stainless steel of fishing tackle, Stainless steel Refractory anchor.
We have the ability to finish all sizes of finishing jobs. Our staff is committed to excellence and total customer satisfaction in 1980 and has become one of the Taiwan leading specialists in stainless steel finishing. Expertise gained in these years has produced a highly professional team, which is capable of dealing efficiently with orders both large and small. A very high standard of service together with competitive pricing has resulted in work being carried out for companies throughout the country.
We deal with orders of all sizes with equal attention, and offer free technical advice and consultancy to all customers.
We are dedicated to providing a service of the highest quality to ensure complete customer satisfaction - from submission of order to the successful application of the finished product.
| | |
| --- | --- |
| Company Name : | Shye Chi Enterprise Co., Ltd. |
| Contact With : | Mr. Tsai |
| Products : | stainless steel sheet, stainless steel bar and stainless steel plate, Stainless steel finishes,Hook frame for automatic emergency slow descent machine,Stainless steel fixed accessories,Manhole steps,finishing tools,Stainless steel,Refractory anchor. |
| TEL : | 886-7-7433488 , 886-7-7433496 |
| FAX : | 886-7-7433901 |
| Address : | No.100-90, Fengren Rd., Fengshan Dist., Kaohsiung City 830, Taiwan |
| Website : | www.stainless-finishing.com |
| Email : | shyechi@seed.net.tw |